Reggae and dancehall music in Western Australia!

Promoting reggae and dancehall music in Perth, Western Australia and to the world!
Promotion
Events
Publicity
Event Management
DJ and artist development and bookings
Phone: 0447 397 854, 0411 229 258
Email: treesmumma@gmail.com sistache@hotmail.com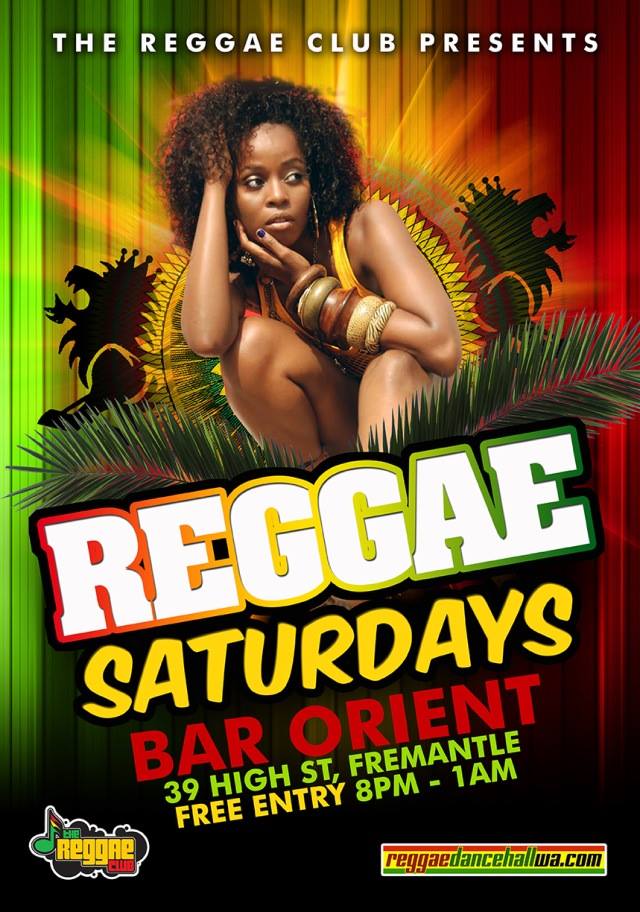 34TH ANNUAL BOB MARLEY OUTERNATIONAL 2015!
SUNDAY 1st FEBRUARY
RAILWAY HOTEL
44 tydeman road north fremantle
3pm - 10pm
$25 door charge
part proceeds to oxfams ebola virus crisis appeal
This February 2015 sees the 70th birthday of the musical legend of BOB MARLEY! With a musical output that spanned 3 decades and a musical legacy that has lived on for a further 4 decades after his passing, the influence of Robert Nesta Marley should not be underestimated! After the Wailers disbanded in 1974, Marley pursued a solo career which culminated in the release of the album Exodus in 1977 which established his worldwide reputation and produced his status as one of the world's best-selling artists of all time, with sales of more than 75 million records.He was a committed Rastafari who infused his music with a sense of spirituality. He remains a symbol of African Unity, and an inspiration for indigenous and oppressed peoples around the world.
During his lifetime, Bob Marley's house at halfway tree in Kingston, always provided food for the hungry. His legacy continues to feed people in Jamaica through tourism and the hugely successful reggae music industry. His sons continue his charity work with several projects and foundations, and his music lives on especially through the reggae revival of the last few years with artists like Chronixx, Kabaka Pyramid and Protege following his path of righteous and conscious music for the people.
For the past 34 years in Perth, Bob Marley has been commemorated in the annual BOB MARLEY OUTERNATIONAL event. From a small hall in Subiaco with 44 attendees, to the massive events at the Fremantle passenger Terminal in the 90's with attendances of over 3000, the tradition continues in 2015. In past years featured acts have included Mixed Relations, Jah Shaka, Earl 16 and Gappy Ranks, alongside the very best local reggae music acts to be found. With a strong emphasis on highlighting good reggae music in Western Australia and aiming to provide a platform for this often overlooked genre.
Every year part proceeds are donated to various worthy causes, including third world schools, community radio stations, and Oxfams emergency appeals in the Philippines, Haiti, East Africa, West Africa and clean water projects in Southern and central Africa.
This years event to be held at The Railway Hotel 44 Tydeman road in North Fremantle on Sunday 1st February will have two stages (Indoor and Outdoor), great food and reggae stalls, Bob Marley Videos on the big screen, and the first 50 through the door at 3pm get a free reggae t-shirt! This year has a heavy duty roots reggae lineup featuring a truly international (outernational) variety of acts and djs representing Australia, New Zealand, Jamaica, India, Sudan, Zimbabwe, Kenya, Zambia and the UK. Full line-up: CERA KYMARNI & LIONESS MOVEMENT NGATI NBA RASTAS DOWNBEAT JACOB AND THE RUDEBOYS SOULJAH KAPTIVZ DANNY PASH'S ONE LOVE RICKY & SABRINA JAH WISOM SOUND GENERAL JUSTICE JEEB BUJU MUMMA TREES SIMBA ZARE DEMUS BLAQKNIGHT UPFRONT DARKCHILD TUTOMATH KBI
More info: CERA KYMARNI & LIONESS MOVEMENT (Cera is originally from New Zealand and is now based in Perth. Together with her musical sisters, she brings the sweetest most powerful vocals with her original conscious lyrics that has wowed audiences around WA as she played supports on sell out tours with Katchafire, Kolohe Kai, Rebel Souljahz and Sammy J. Her debut single is due out this month on a US reggae label and she has upcoming releases in Europe.) NGATI (these NZ reggae soldiers have been playing around WA for 4 years and have a gained a reputation for tight rhythms and on point vocals fronted by the sweet sounds of vocalist Natalie Doyle.) NBA RASTAS (based in Kalgoorlie, this band has a great love and respect for reggae music and its traditions which show in their live performances.) DOWNBEAT (The West Aussie reggae band who beat down babylon with their bass heavy music) JACOB AND THE RUDEBOYS DANNY PASH'S ONE LOVE RICKY & SABRINA SOULJAH KAPTIVZ Djs on the lineup are: ZARE DEMUS (Jamaican Canadian currently resident in Melbourne and is the instigator of Australian Reggae Radio - the ONLY Australian 24 hour reggae music radio online.) GENERAL JUSTICE JEEB BUJU (Sudan) JAH WISDOM SOUND MUMMA TREES SIMBA (Zimbabwe) BLAQKNIGHT (Kenya) UPFRONT (UK) DARKCHILD (Zimbabwe) TUTOMATH (Zambia) KBI (UK)
This year funds are being directed to Oxfams Ebola Crisis Appeal in West Africa. - https://www.oxfam.org.au/explore/emergencies/current-emergencies/west-africa-ebola-crisis/ Oxfam are providing sanitation, protective equipment, training community workers, and public health education to stop this horrific disease and its devastating consequences in countries where the public health system is overwhelmed and unable to cope with this crisis.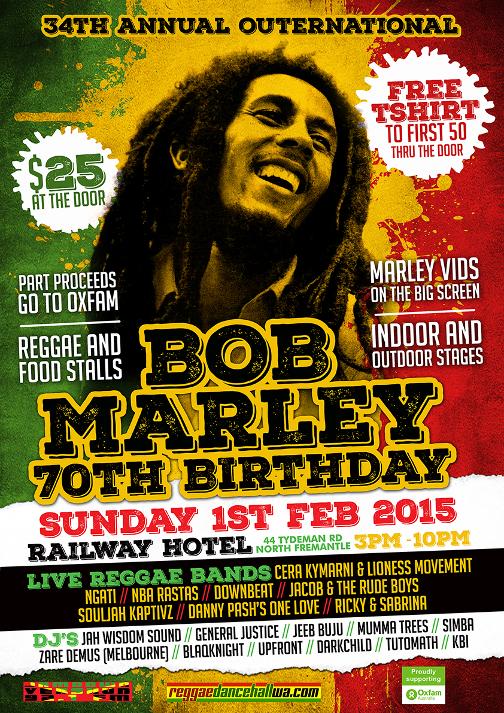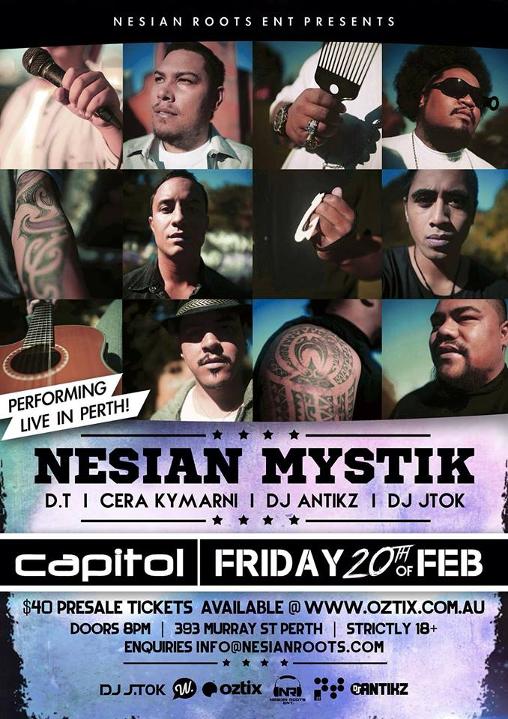 Bless up!
We have set up an open forum on the Wa Gwaan page - everyone and anyone can put up their Western Australia events, music downloads and links, and share any dancehall and reggae news. It is free and very simple to use.
While I would love to be able to post up everyones events, news and music on this site, I simply dont have the time, which is why we have set up a forum, so if you have something you want to share, you are welcome to post it up yourself!