Reggae and dancehall music in Western Australia!

Promoting reggae and dancehall music in Perth, Western Australia and to the world!
Promotion
Events
Publicity
Event Management
DJ and artist development and bookings
Phone: 0447 397 854
Email: reggaemumma@gmail.com

Looking for a band or dj for your next event? We can supply your entertainment needs in reggae, dancehall, soca, latin, soul, blues, 60's, ska and more. Weddings, Parties, corporate events. Call 0447397 854
BEENIE MAN
LIVE IN PERTH
SUNDAY 26TH MARCH
METRO CITY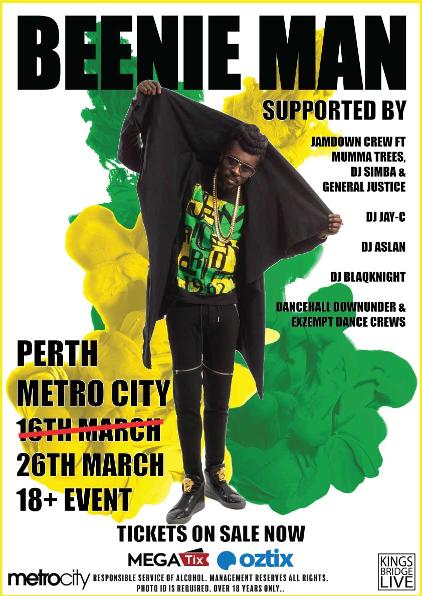 BEENIE Man (born Anthony Moses Davis on August 22, 1973 in Kingston, Jamaica) is one of Jamaica's biggest and most successful exports. Beenie Man is a multi-talented reggae artist with a recording career that stretches back to 1981
At the age of five he began rapping ('toasting") after being encouraged by his uncle drummer Sydney Knowles. His shot at stardom came when he was only eight years old, when he took first prize at the national Teeny Talent contest. This led to a meeting with producer Junjo Lawes, who recorded the diminutive DJ's debut single, "Too Fancy."
His first single, "Too Fancy," was released in 1981. What followed was three decades in reggae. His debut album, The Invincible BEENIE Man, was released in 1983. He put his music career on hold to finish school and travel to the United States, Canada and the United Kingdom. He returned to the scene in the 1990s.
In 1994, he released his popular record, Blessed, which established him as an international dancehall reggae star. In 1998 he was signed to Virgin Records by the label's A&R, Patrick Moxy, on the strength of the Billboard charting single "Who Am I".
He has amassed an impressive number of music awards including most notably a MOBO Award for Best International Reggae Act in 1998, and a Grammy Award for Best Reggae Album (Art & Life) in 2000.
He collaborated with Janet Jackson in 2002, with his hit "Feel It Boy," the same year he worked with Lil Kim on "Fresh from Yard."
Beenie co-wrote and starred in the film "Kingston" in 2008 and was crowned King of the Dancehall in 2009 by the Jamaican entertainment industry for his contribution to Dancehall Music.
He returned in 2016 with "Unstoppable", his first LP in a decade. The effort featured appearances by Akon and Bounty Killer, as well as production by Major Lazer.
With a career spanning over 30 years, Beenie Man is a true entertainer who has withstood the test of time. His music is timeless. Never losing touch with his fans, he proudly embraces his Jamaican roots and for that, he remains the reigning "King of the Dancehall" in his country, the Caribbean and across the world.
GET YOUR TICKETS ONLINE HERE -
MEGATIX - http://bit.ly/2kIx6qb
OZTIX - http://bit.ly/2khecWN