Reggae and dancehall music in Western Australia!

Promoting reggae and dancehall music in Perth, Western Australia and to the world!
Promotion
Events
Publicity
Event Management
DJ and artist development and bookings
Phone: 0447 397 854
Email: reggaemumma@gmail.com

Looking for a band or dj for your next event? We can supply your entertainment needs in reggae, dancehall, soca, latin, soul, blues, 60's, ska and more. Weddings, Parties, corporate events. Call 0447397 854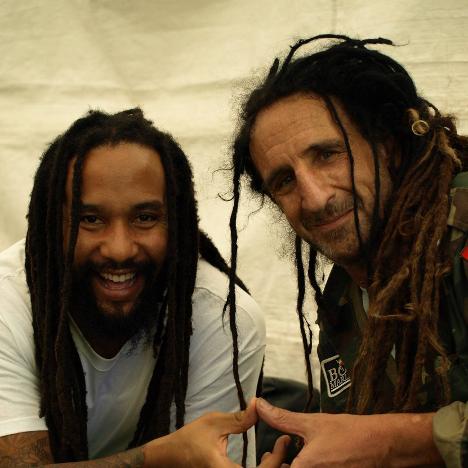 JAMDOWN VERSHUN CELEBRATES 38 YEARS OF REGGAE ON THE RADIO IN WA ON 92.1FM
Tune in this week 92.1fm (in Perth Western Australia) or www.rtrfm.com.au FROM 5PM WA time, as the crew digs deep into the archives to give an overview of the music for the last 38 years! Special previously unaired interviews with reggae greats and legends! TUNE EEEEEEN!
http://rtrfm.com.au/story/humans-of-rtrfm-general-justice/
THE most anticipated debut reggae album for decades finally released on 7/7/17.
Chronixx's "Chronology" is available NOW on itunes and other digital platforms.
This is a serious MUST for any self respecting reggae fan.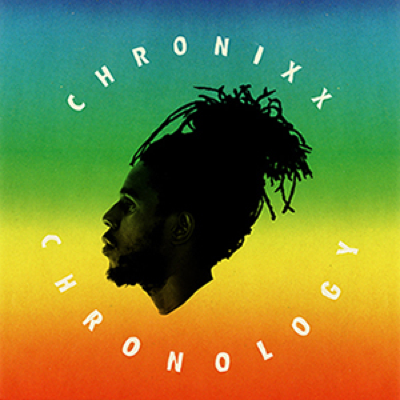 Chronixx "Chronology" album out now - The debut album from Reggae music's brightest talent
Chronixx's Chronology skyrockets to the top of iTunes today. In the U.S., the Jamaican artist's debut album, available today July 7, 2017, is currently holding the #12 spot on the overall Top Album chart and #1 on Reggae Album chart. In other iTunes territories, the album lands at #16 in Canada, #19 in UK, #2 in Kenya, #5 in Switzerland on their overall Top Album chart.

"Evolution," "uprising," "continuation" and "Rastafari" are words used by the 24-year-old singer-songwriter Chronixx. These identifiers embody every nuance of his long-awaited debut Chronology on his label Soul Circle (Virgin/Universal distribution). They tell the story of a young Jamaican music prodigy whose conscious views of the world continue the legacy of reggae's forebearers, yet also blazes a new path for traditional and non-traditional listeners.

Since 2012, Chronixx has organically built that devoted fanbase, turning industry heads as one of Jamaica's fastest, most-promising talents to represent the iconic Caribbean island to a global audience.

From Chronixx's 2013 breakthrough anthem "Smile Jamaica" (produced by Silly Walks Discotheque)—that put him on the map—to his 2017 self-produced, dancehall-styled single "Likes," these songs are a guide to the progression of Chronixx as a well-rounded artist on Chronology. His palette for rhythm is limitless, choosing an array of colors to paint vivid pictures. He walks you through the neighborhood that raised him on "Spanish Town Rockin"and pays respect to the women in his life on "Majesty" - both tracks also featured on his 2016 mixtape Roots & Chalice by Federation Sound. On "Ghetto Paradise" (produced by Phillip "Winta" James whose credits include Damian Marley & Protoje), Chronixx expresses the bittersweet realities of Jamaica, a juxtaposition of the island's beautiful aesthetic and the darkness, poverty and strife that lies within. He declares humanity's indomitable spirit on "I Can," produced by Parisian production duo Picard Brothers (credits include Major Lazer, Ellie Goulding, Kehlani). Worries drift away on "Skankin Sweet," the album's "richly textured one drop groove" (Billboard). The album's one and only guest feature is reserved for his father, Jamaican reggae vocalist Chronicle on "Big Bad Sound." The song hails up all the generals from his father to Haile Selassie who helped shape him musically and spiritually. It is a true example of the art form's continuation coming full circle.

Thoughtful lyricism aside, one of Chronology's greatest attributes is its layered production. The album's rich instrumentation allows the messages to digest into a soulful depth. Chronixx co-produced the entire album with a diverse all-star cast spanning the globe. Repping Jamaica, his touring band Zincfence Redemption along with the island's renowned musicians Llamar 'Riff Raff' Brown, Dean Fraser, Stephen McGregor (amongst many others) all contributed to the album. Across the map, British drum & bass band Rudimental, London-based Utters and NYC's Federation Sound round out this dynamic product. For tracks "Country Boy" and "Christina," Chronixx recruited iconic American blues guitarist Donald Kinsey, known for his recording and touring history with Bob Marley and Peter Tosh. Also a Chicago string orchestra arranged by Matt Jones adds dimension to songs like "Legend," "Tell Me More" and "Black Is Beautiful."

Chronology was recorded in studios in Brooklyn, Kingston, London and Chicago, mixed at Miami's Circle House Studios and at NYC's Manhattan Center.

In support of Chronology, he will continue to tour Europe, North America and Japan throughout the summer. He will also join Ms. Lauryn Hill and Nas on their Fall 2017 Powernomics tour. See full tour dates here www.chronixxmusic.com.


Chronology Track Listing:
1. Spanish Town Rocking
2. Big Bad Sound featuring Chronicle
3. Skankin Sweet
4. Ghetto Paradise
5. Country Boy
6. Smile Jamaica
7. I Can
8. Selassie Children
9. Black is Beautiful
10. Majesty
11. Loneliness
12. Likes
13. Tell Me Now
14. Legend
15. Christina
16. I Know Love [Bonus Track]
RUM RIBS & REGGAE
SATURDAY 14TH OCTOBER
SWAN VALLEY
Rumfest 2017 will be held on Saturday the 14th of October 2017 and will feature live reggae, tasty ribs and some of Perth's tastiest spirits.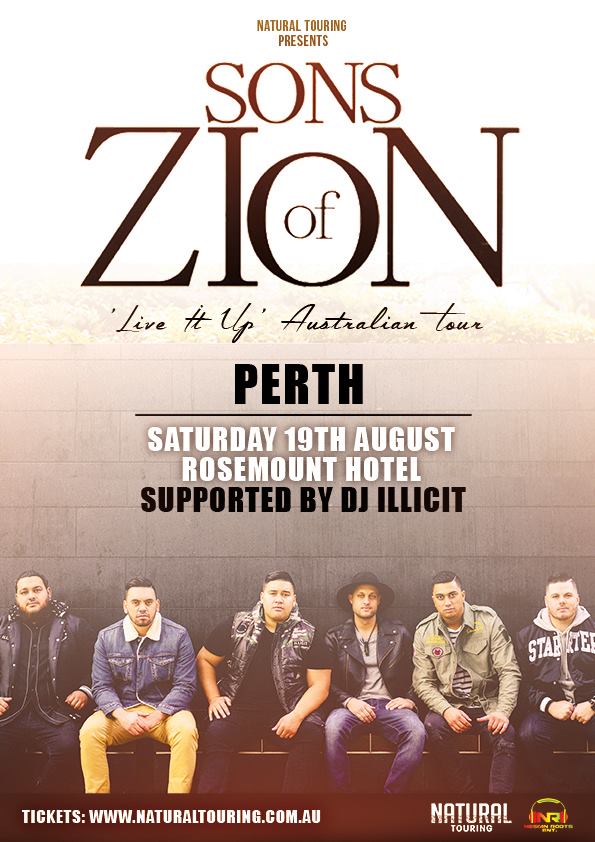 SONS OF ZION with their unique fusion of rock, dub, RnB with the foundation of reggae, stand out from the rest. From humble beginnings, a drive to create, perform, tour, make music & a commitment to their fans & followers SONS OF ZION have gained huge popularity & have become one of the biggest names in the industry. SONS OF ZION have performed at many festivals in both New Zealand, Australia & USA & are in extremely high demand. SONS OF ZION are currently signed to Sony Music NZ & are currently working on their 3rd studio album.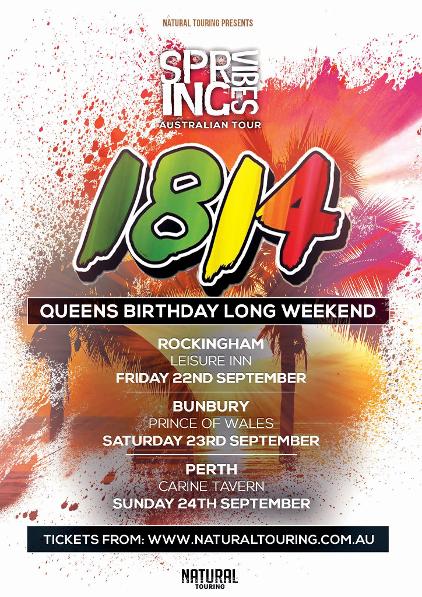 Natural Touring present 1814 'Spring Vibes' 2017 Australian Tour.
QUEENS BIRTHDAY LONG WEEKEND!
Sep 22 - Leisure Inn, Rockingham
Sep 23 - Prince of Wales, Bunbury
Sep 24 - Carine Tavern, Perth
Tickets from www.naturaltouring.com.au

After a lengthy hiatus, the well loved NZ reggae stars 1814 are back on the road with a much anticipated run of Australian dates before heading back to NZ for a summer season of shows. The band will be in the Gold Coast, Brisbane, Rockingham, Bunbury and Perth through September. Then closing out the tour in early October, in Melbourne and Sydney.

1814, who originally came out of the hills surrounding the beautiful Whangaroa Harbour in 2004, have been performing their take on Kiwi flavoured Reggae throughout New Zealand and Australia since.
They have enjoyed national success with their debut album 'Jah Rydem', released in 2008. Band founder Patu Colbert describes the album as having sweet soulful vocals, upbeat grooves, wicked sax lines and a strong message of Peace, Love and Harmony. The album was recorded at world-renowned recording studio, York Street, in Auckland. "Jah Rydem", reached number 1 on the New Zealand indie charts with 'Jah Rastafari' reaching gold status in digital downloads. The band received an award for their song 'Whakahonohono mai', at the Maori Music Waiata Awards 2012. It has been the most played song on Maori Radio for the past 5 years.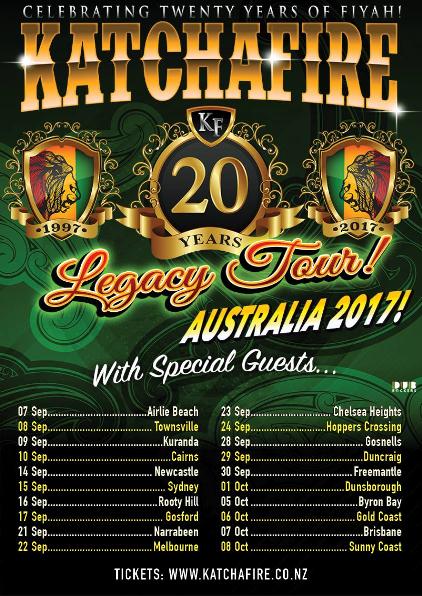 KATCHAFIRE – AUSSIE LEGACY TOUR 2017
Tickets on sale now!

"…They transformed the place into a freedom-founded club where the only rule was to enjoy the music. No external force could stop the fire!" KDHX 88.1 (USA)

Hailing from the mighty H-Town (Hamilton), Aoteoroa (New Zealand), KATCHAFIRE, have become a global roots reggae phenomenon..The all Maori Reggae band, bring their pure classic sound to music lovers worldwide, delivering one of the most authentic Reggae shows around today.​

"The band has matured into one of the most cherished, original live reggae bands in the world." The Brag"…


THURSDAY 28 SEPTEMBER – Gosnells Hotel
FRIDAY 29 SEPTEMBER - The Carine, Duncraig
SATURDAY 30 SEPTEMBER - Metropolis, Fremantle w/DJIllicit
SUNDAY 1 OCTOBER - Dunsborough Tavern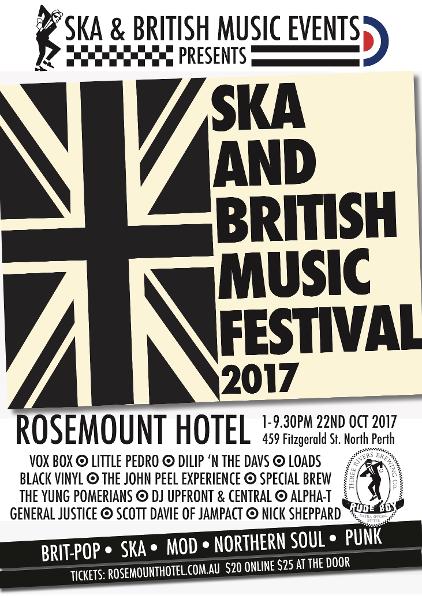 Watch reggae legends, and an international reggae superstar as The Jamaican Music & Food Festival returns with a huge celebration of roots music, culture & real Jamaican food. Returning to Seaworks, Williamstown Melbourneon Sunday 12 November, it features sound systems fit for reggae Kings & Queenz, world-class DJs spinning reggae, dub, and dancehall classics for those who know their Buju from Bob, and over twenty food stalls serving up all kinds of Jamaican spice.

Join us for One day, as the Melbourne dockside comes to life with the colours and sounds of Jamaica. With four bars serving up Red Stripe & Rum, plus bass, bass and more bass. Tickets on sale soon, full line up and International headliners soon to be revealed.