Reggae and dancehall music in Western Australia!

Promoting reggae and dancehall music in Perth, Western Australia and to the world!
Promotion
Events
Publicity
Event Management
DJ and artist development and bookings
Phone: 0447 397 854
Email: reggaemumma@gmail.com

Looking for a band or dj for your next event? We can supply your entertainment needs in reggae, dancehall, soca, latin, soul, blues, 60's, ska and more. Weddings, Parties, corporate events. Call 0447397 854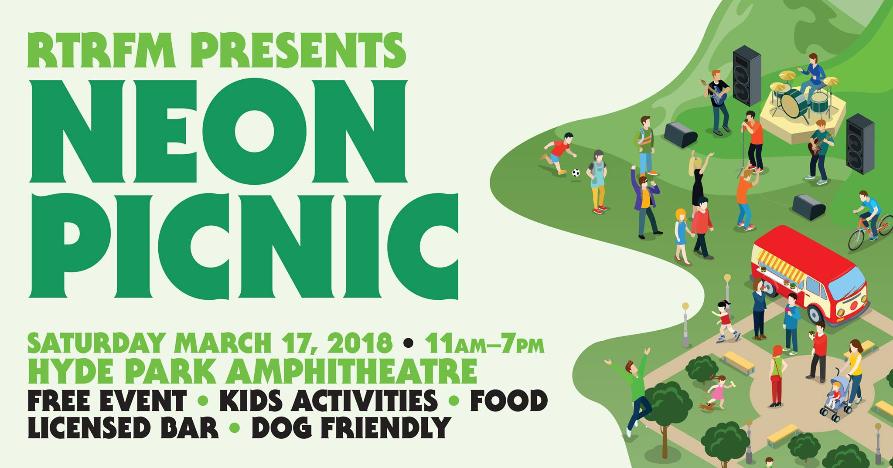 RTRFM's NEON PICNIC RETURNS WITH A DAY LONG, FAMILY FRIENDLY OUTSIDE BROADCAST IN THE LUSCIOUS SURROUNDS OF HYDE PARK

Neon Picnic, the pre-cursor to RTRFM's much loved In The Pines music festival made its triumphant return to the RTRFM event calendar last year, as the station celebrated 40 years of broadcasting.

Now in RTRFM's 41st year, Neon Picnic returns as we bring the radio to you live on Saturday March 17th in the amazing surrounds of the Hyde Park Amplitheatre, 11am – 7pm.

Spend the day with the us and our line up of Saturday shows; Global Rhythm Pot on RTR FM 92.1, Homegrown, Drastic on Plastic and Jamdown Vershun RTR 92.1fm, plus special musical guests. Join the RTRFM presenters as they play you their favourite tunes live and direct.

Come and bask in the musical majesty at this all-day event, as we chill out on the grass of Perth's most beloved park. Bring the kids for a play on a bouncey castle, keep them busy at our arts and craft centre, and hula hooping workshops for the kids and adults from hooping magician Young Hoops.

Plus, the Mums and Dads can relax in our licensed bar thanks to Feral Brewing Company, The Hills Cider Company and Undertow Wines or grab a bite and coffee from Meat Candy, Pockets falafel and Double Shotz.

Entry is free and you are welcome to come and go as you like. Pull up a slice of grass, bring a picnic and enjoy local music and Perth's best radio station live.

Catch amazing live sets from Hot Paprika, the finest purveyors of Hungarian gypsy music, blissed out pop sounds of new comers Almond Soy and the straight up rhythms of Intercontinental Sounds.

Stay with us into the afternoon with pop-folk pioneer Helen Shanahan, the legendary and awe-inspiring Felicity Groom, and the straight fire dub of THE U-NITES.

'Neon Picnic' is a free, family-friendly event, with activities for children all day long, and a licensed bar will be on site.

Thanks to our sponsor City of Vincent.

Plus support from AO Lets Go Print and Distribution, MinuteMan Press Balcatta, Feral Brewing Company, The Hills Cider Company and Stage Left Design.

WHERE: Hyde Park Amplitheatre, Vincent Street, Highgate
WHEN: Saturday March 17th, 11 - 7pm
WHO: Almond Soy, Hot Paprika, The U-Nites, Felicity Groom, Helen Shanahan and Intercontinental Sounds.
COST: Free

Bring a picnic but no BYO alcohol. Licensed bar on site with all proceeds going to RTRFM.

The Mexicans
EP launch "Broome Chilli's"
The Railway Hotel North Fremantle
Friday 16th March
The Mexicans are releasing their EP "Broome Chillies" with some help from their friends The U-Nites and legendary Reggae radio and DJ pioneer General Justice.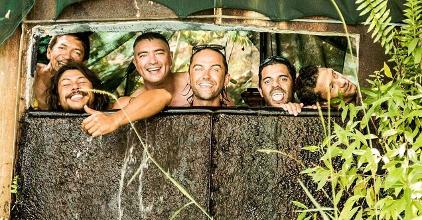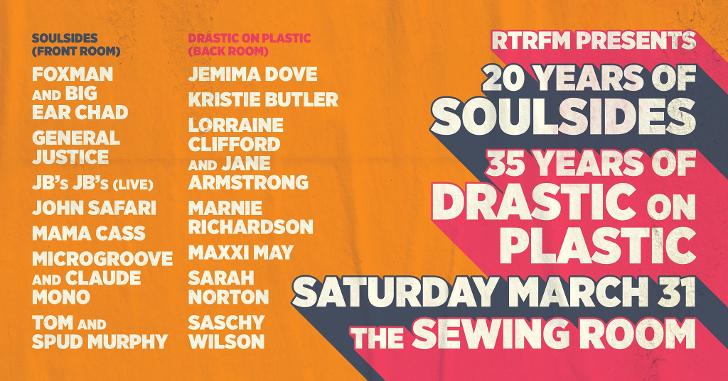 Join RTRFM as we celebrate two of our longest running shows, Soulsides and Drastic on Plastic, with a two stage party at Perth's newest late night haunt, The Sewing Room, Saturday March 31st.

In the front room catch all your favourites from the Soulsides on RTRFM 92.1 crew, as they celebrate 20 years of soul, rhythm and blues and all that lies between with a hip shaking romp late into the night and early into the morning.

Catch the DJ stylings of all you current and past favourites, Mama Cass & Kristie Butler, Tom & Spud Murphy, Microgrove & Claude Mono, John Safari, General Justice and Foxman & Big Ear Chad.

Plus, the live sounds of JB's JBs, the project of local band leader John Brown taking on the music of legendary band The J.B's, James Brown's backing band.

Expect a night of rarities, oddities and classic soul tunes as we create our very own soultrain in the basement of The Sewing Room.

Out the back the ladies of Drastic on Plastic celebrate 35 years of women in music on your radio. Founded in 1983 as part of 6UVS by current presenters Lorraine Clifford and Jane Armstrong, Drastic on Plastic gave women in music a voice in a male dominated world.

Two hours of only female musicians and performers presented by women at a time when being a woman in music was not only rare but controversial. 35 years and although the world has changed somewhat, Drastic on Plastic is as necessary as ever before.

Join the team from Drastic on Plastic as they celebrate everything that is amazing about women in music and the radio show that has been bringing them to you for 35 years on RTRFM.

Party down with Lorraine & Jane, Marnie Richardson, Maxi May, Sarah Norton, Kristie Butler, Saschy Wilson, Jemima Dove.

Join us for the ultimate celebration of two of RTRFM's longest running radio shows. Get down for a dance, a boogie and one hell of a good time.

WHERE: The Sewing Room, Wolf Lane, Perth
WHAT: 20 Years of Soulsides / 35 Years of Drastic on Plastic
WHO: Lorraine & Jane, Marnie Richardson, Maxi May, Sarah Norton, Kristie Butler, Saschy Singh, Jemima Dove, Mama Cass & Kristie Butler, Tom & Spud Murphy, Microgrove & Claude Mono, John Safari, General Justice and Foxman & Big Ear Chad. Plus JBs JBs (Live)
COST: Presales: Gen: $20 / Subs: $15
TICKETS: https://shop.rtrfm.com.au/shop/208
420 Picnic Perth
•٠•●●•٠٠•٠•●●•٠٠•٠•●●•٠٠•٠•●●•٠٠•٠•●●•
HEMP AWARENESS DAY
FRI 20 APRIL 2018
An afternoon of live music, djs, speakers, hemp related stalls, information about hemp foods, knowledge about Cannabis for medical use, switching to a hemp crop, promotion of hemp housing materials, textiles, eco-friendly plastics, paper and clothing.
Hosted at Pioneer Park, Fremantle(corner of Pakenham and Phillimore Streets), this is a celebration of Cannabis.
______________________________________
REGULATE★EDUCATE★MEDICATE
Speakers to be announced.
Stalls to be announced.
___________________________________
LEGALISE★DESTIGMATISE
Live Music:
►►►🔥 ¡¡¡ GENERAL JUSTICE!!! 🔥
►►►🔥 DARREN GUTHRIE 🔥
►►► WEGGY
►►► IGNITE
Powered by FUNKTION ONE
______________________________________
★ Alcohol Free Event ★
We have a no alcohol policy
[FREE EVENT]
Ticket not required.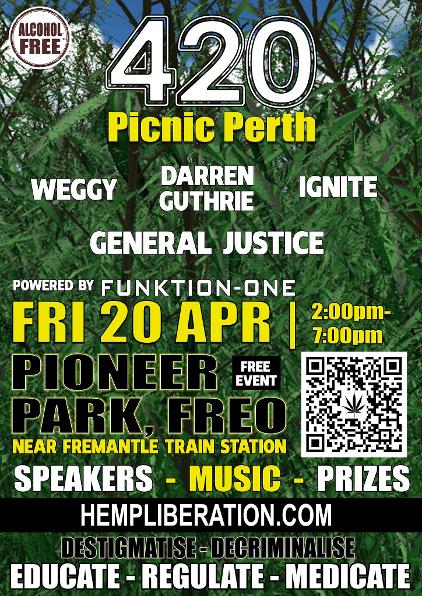 🔊 REVERB 2018 🔊
April 13-15 – G.O Edwards Park, Burswood WA

On the 3rd Day…. we proudly present 🎶 A Sublime Sunday Session 🎶

Starring:
Xavier Rudd - Official (90 Min Headline Set)
with
Sola Rosa (NZ)
The Beautiful Girls
Ainslie Wills
Little Quirks band
The Hunting Birds
& DJ GENERAL JUSTICE

BARS – FOOD FAIR – MERCHANDISE – VIP AREA & GOOD VIBES... ALL IN THE PICTURESQUE CITYSIDE PARKLAND OF BURSWOOD
▁▁▁▁▁▁▁▁▁▁▁▁▁▁▁▁▁▁▁

The team behind Creative Events Perth are excited to announce the debut of Perth's latest music and socially inspired event REVERB

Set to take place in the glorious Autumn month of April, REVERB celebrates WA's love of the great outdoors with three days of music, food fair, beverages, open skies and community vibes… all presented in the picturesque cityside parklands of G.O Edwards Park, Burswood WA

Kicking off the first of three event announcements over the coming weeks, REVERB is proud to announce a huge line-up of roots, reggae, folk and soul for SUNDAY 15 APRIL 2018