Reggae and dancehall music in Western Australia!

Promoting reggae and dancehall music in Perth, Western Australia and to the world!
Promotion
Events
Publicity
Event Management
DJ and artist development and bookings
Phone: 0447 397 854
Email: reggaemumma@gmail.com

Looking for a band or dj for your next event? We can supply your entertainment needs in reggae, dancehall, soca, latin, soul, blues, 60's, ska and more. Weddings, Parties, corporate events. Call 0447397 854
BOB MARLEY OUTERNATIONAL 2017
SATURDAY 11TH FEBRUARY
RAILWAY HOTEL NORTH FREMANTLE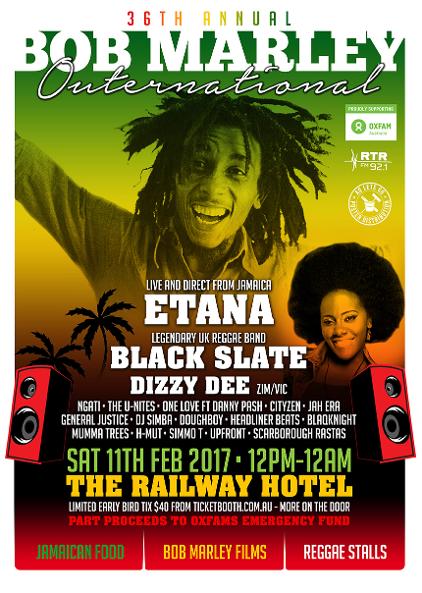 36th Annual Bob Marley Outernational, celebrating the life and music of Bob Marley the king of reggae with 12 hours of Reggae music featuring live bands and singers from around the world, including Etana (JA), Black Slate (UK), Dizzy Dee (ZIM/VIC) local, national and international artists and DJ's. Jamaican food and reggae stalls. Part proceeds to Oxfams emergency fund.

Limited early bird tickets SOLD OUT!
General pre-slae tickets are available from ticketbooth here -
https://events.ticketbooth.com.au/event/bob-marley-outernational/listing

This years line up -
Etana (live and direct from Jamiaca)
Black Slate (legendary UK reggae band)
Dizzy Dee (recently signed to VP Records Zim/Melbourne)

NGATI
The U-Nites
One Love ft Danny Pash
Cityzen
Jah Era
General Justice
DJ Simba
Mumma Trees
Doughboy
Headliner Beats
Dj Blaqknight
H-Mut
Simmo T
Upfront
Scarborough Rastas

The 36th Annual Bob Marley Outernational will be held on Saturday 11th February on the fabulous outdoor stage at the Railway Hotel North Fremantle.