Reggae and dancehall music in Western Australia!

Promoting reggae and dancehall music in Perth, Western Australia and to the world!
Promotion
Events
Publicity
Event Management
DJ and artist development and bookings
Phone: 0447 397 854
Email: reggaemumma@gmail.com

Looking for a band or dj for your next event? We can supply your entertainment needs in reggae, dancehall, soca, latin, soul, blues, 60's, ska and more. Weddings, Parties, corporate events. Call 0447397 854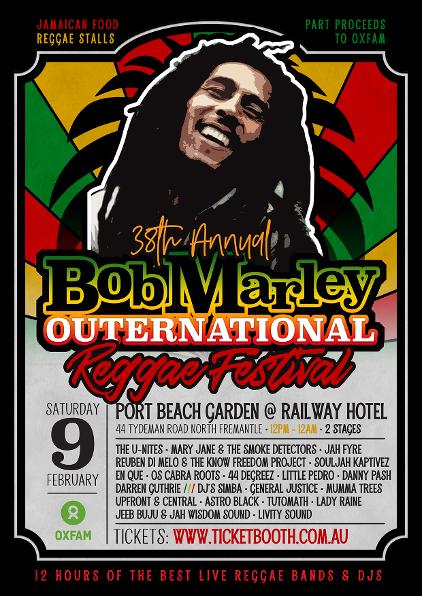 BOB MARLEY ❤️💛💚 OUTERNATIONAL
🇧🇴🇧🇴🇧🇴 REGGAE FESTIVAL 🇧🇴🇧🇴🇧🇴
SATURDAY 9th FEBRUARY
Port Beach Garden Bar @ The Railway Hotel
12 midday to 12 midnight - 20 live reggae acts!
🇯🇲 Jamaican Food 🇯🇲 🇧🇴 Reggae Stalls 🇧🇴
https://events.ticketbooth.com.au/…/bob-marley-outernationa…
Limited Early Bird tickets $25
Online General Admission $35
Bob Marley is arguably the most influential musician in the 20th century, with his music reaching all corners of the world and touching peoples hearts and minds. He was a prophet who stood against social injustice, political corruption and poverty.
He has left a rich legacy in his own massive musical catalogue, and the works continue today through his children.
Come celebrate the music and life of the Legend Bob Marley with 12 hours of reggae goodness from 20 reggae acts over 2 stages!
In 2019 we have great pleasure in presenting for your musical enjoyment the amazing talents of:
🇧🇴 THE U-NITES
🇧🇴 MARY JANE & THE SMOKE DETECTORS
🇧🇴 REUBEN DE MELO & THE KNOW FREEDOM PROJECT
🇧🇴 SOULJAH KAPTIVEZ
🇧🇴 JAH FYRE
🇧🇴 OS CABRA ROOTS
🇧🇴 EN QUE
🇧🇴 44 DEGREEZ
🇧🇴 LITTLE PEDRO
🎤 DANNY PASH
🎤 DARREN GUTHRIE
🇯🇲🇯🇲🇯🇲
🎧 DJ's SIMBA
🎧 GENERAL JUSTICE
🎧 MUMMA TREES
🎧 UPFRONT & CENTRAL
🎧 ASTRO BLACK
🎧 TUTOMATH
🎧 LADY RAINE
🎧 JEEB BUJU & JAH WISDOM SOUND
🎧 LIVITY SOUND
Australia's longest running reggae festival is in its 38th year of promoting the music of the Jamaican ghetto. With part proceeds to Oxfam.
Saturday 9th February 12pm - 12am
Port Beach Garden Bar @ The Railway Hotel
44 Tydeman Road North Fremantle
More details: https://www.facebook.com/events/582287078874725/
tickets: https://events.ticketbooth.com.au/…/bob-marley-outernationa…