Music from the ghetto

Reggae and dancehall music


Promoting reggae and dancehall music in Perth, Western Australia and to the world!




Promotion

Events

Publicity

Event Management

DJ and artist development and bookings







Phone: 0447 397 854, 0411 229 258
Email: mummatrees@gmail.com ladyche@hotmail.com



The Reggae Club
Saturdays
Bar Orient
39 High St Fremantle


Relaunching on Saturday nights, Western Australia's favourite weekly reggae club is having a re opening party on Saturday 11th January 2014!

With the best in reggae and dancehall from the Empressions , mumma trees and sista Che, general justice, DJ VEENESS and DJ K.S., watch out for special guests, as we tun up the tunes every Saturday in Fremantle!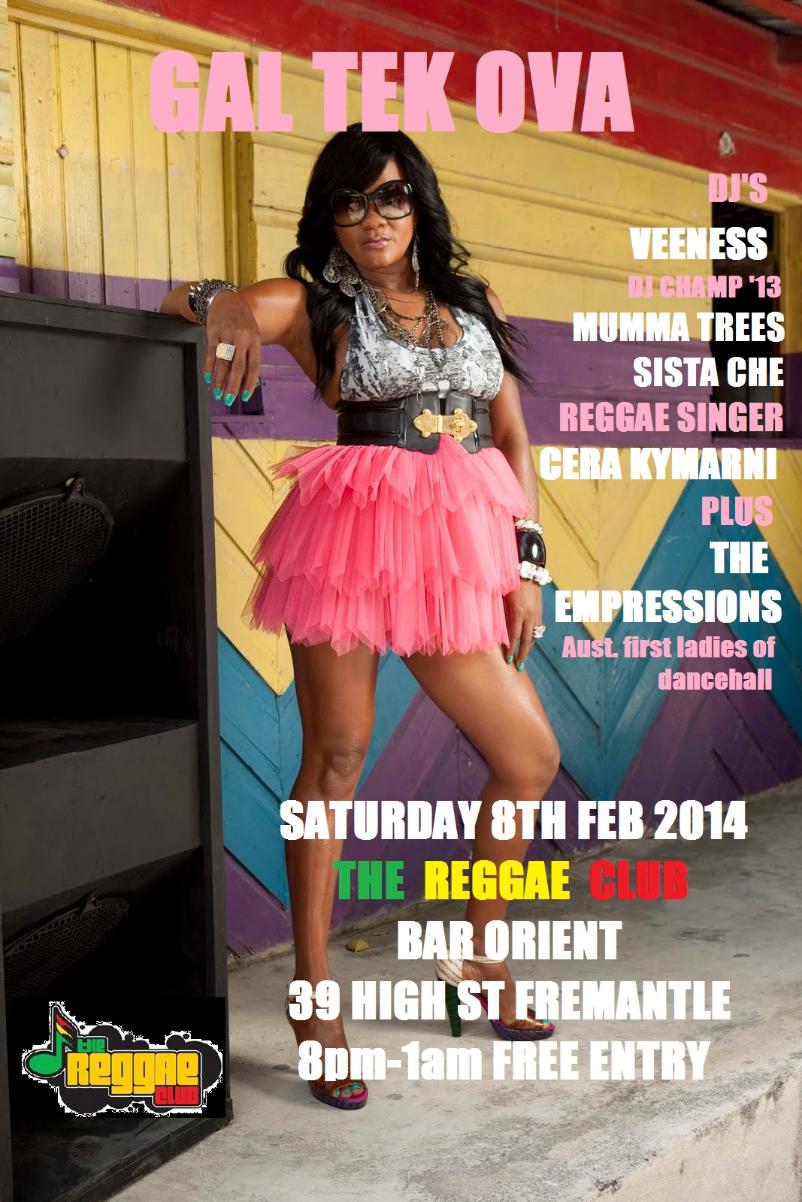 Bob Marley Outernational Day
Sunday 2nd February 2014
The Railway Hotel
What music festival has been running for 33 years, donates part proceeds to Oxfam every year, gives the first 50 people through the door a free t-shirt, has food and merchandise stalls, 2 stages, outdoors and indoors, great vibes and showcases the very best in local, interstate and international reggae artists?

BOB MARLEY OUTERNATIONAL BIRTHDAY!!!

Headlining this year is the AUSTRALIA'S ABC EXHUMED WINNERS JAHSIFIK!
Australias/ New Zealand sensations JAHMOKO.

And the cream of WA's reggae bands with
THE ISOLITES,
NBA RASTAZ,
DOWNBEAT,

and Zimbabwean/Australian local artist KOMICHI ALLIANCE
singer songwriter SISTA CERA

Also 7 of Australia's top reggae DJ's –
The reggae club dj comp winner VEENESS
KING MESSY (Aust.)
DJ K.S. (kenya)
DJ SIMBA (Zimbabwe)
TUTOMATH (zambia)
Australias first ladies of dancehall THE EMPRESSIONS - Sista Che & Mumma Trees
and from RTRFM and Jah Wisdom GENERAL JUSTICE.

SUNDAY FEBRUARY 2RD
RAILWAY HOTEL NORTH FREMANTLE 2PM- 10PM
2 Stages (indoor and outdoor stage), Reggae Stalls and food available, Free reggae t-shirt to first 50 in at 2pm, tickets on the door $25 Part proceeds to Oxfams PHILIPPINES TYPHOON HAIYAN appeal.


**FOR MUSIC PROMOS, AND INTERVIEW REQUESTS PLEASE CONTACT SISTA CHE ON 0411 229 258***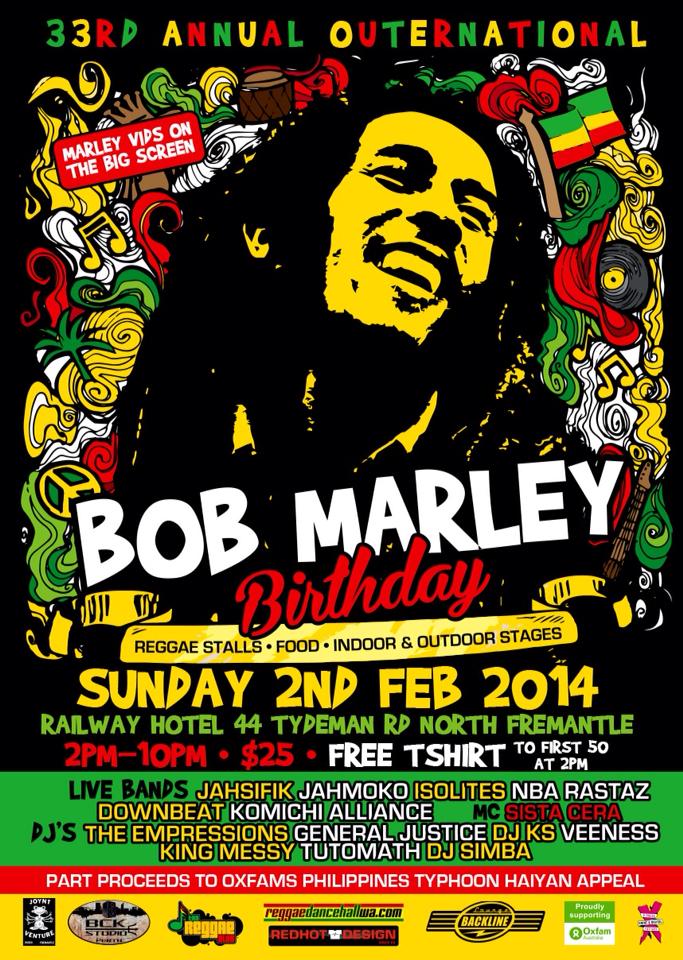 Bless up!
We have set up an open forum on the Wa Gwaan page - everyone and anyone can put up their Western Australia events, music downloads and links, and share any dancehall and reggae news. It is free and very simple to use.
While I would love to be able to post up everyones events, news and music on this site, I simply dont have the time, which is why we have set up a forum, so if you have something you want to share, you are welcome to post it up yourself!