Reggae and dancehall music in Western Australia!

Promoting reggae and dancehall music in Perth, Western Australia and to the world!
Promotion
Events
Publicity
Event Management
DJ and artist development and bookings
Phone: 0447 397 854
Email: reggaemumma@gmail.com

Looking for a band or dj for your next event? We can supply your entertainment needs in reggae, dancehall, soca, latin, soul, blues, 60's, ska and more. Weddings, Parties, corporate events. Call 0447397 854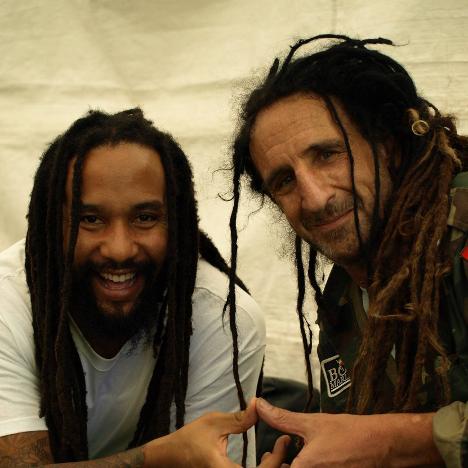 JAMDOWN VERSHUN CELEBRATES 38 YEARS OF REGGAE ON THE RADIO IN WA ON 92.1FM
Tune in this week 92.1fm (in Perth Western Australia) or www.rtrfm.com.au FROM 5PM WA time, as the crew digs deep into the archives to give an overview of the music for the last 38 years! Special previously unaired interviews with reggae greats and legends! TUNE EEEEEEN!
http://rtrfm.com.au/story/humans-of-rtrfm-general-justice/
THE most anticipated debut reggae album for decades finally released on 7/7/17.
Chronixx's "Chronology" is available NOW on itunes and other digital platforms.
This is a serious MUST for any self respecting reggae fan.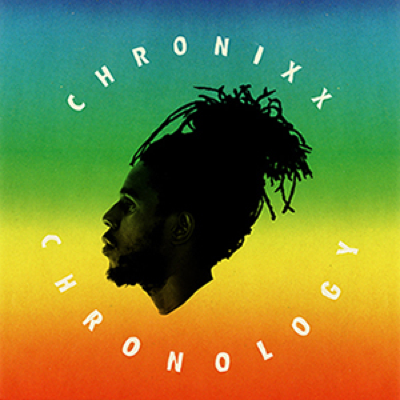 Chronixx "Chronology" album out now - The debut album from Reggae music's brightest talent
Chronixx's Chronology skyrockets to the top of iTunes today. In the U.S., the Jamaican artist's debut album, available today July 7, 2017, is currently holding the #12 spot on the overall Top Album chart and #1 on Reggae Album chart. In other iTunes territories, the album lands at #16 in Canada, #19 in UK, #2 in Kenya, #5 in Switzerland on their overall Top Album chart.

"Evolution," "uprising," "continuation" and "Rastafari" are words used by the 24-year-old singer-songwriter Chronixx. These identifiers embody every nuance of his long-awaited debut Chronology on his label Soul Circle (Virgin/Universal distribution). They tell the story of a young Jamaican music prodigy whose conscious views of the world continue the legacy of reggae's forebearers, yet also blazes a new path for traditional and non-traditional listeners.

Since 2012, Chronixx has organically built that devoted fanbase, turning industry heads as one of Jamaica's fastest, most-promising talents to represent the iconic Caribbean island to a global audience.

From Chronixx's 2013 breakthrough anthem "Smile Jamaica" (produced by Silly Walks Discotheque)—that put him on the map—to his 2017 self-produced, dancehall-styled single "Likes," these songs are a guide to the progression of Chronixx as a well-rounded artist on Chronology. His palette for rhythm is limitless, choosing an array of colors to paint vivid pictures. He walks you through the neighborhood that raised him on "Spanish Town Rockin"and pays respect to the women in his life on "Majesty" - both tracks also featured on his 2016 mixtape Roots & Chalice by Federation Sound. On "Ghetto Paradise" (produced by Phillip "Winta" James whose credits include Damian Marley & Protoje), Chronixx expresses the bittersweet realities of Jamaica, a juxtaposition of the island's beautiful aesthetic and the darkness, poverty and strife that lies within. He declares humanity's indomitable spirit on "I Can," produced by Parisian production duo Picard Brothers (credits include Major Lazer, Ellie Goulding, Kehlani). Worries drift away on "Skankin Sweet," the album's "richly textured one drop groove" (Billboard). The album's one and only guest feature is reserved for his father, Jamaican reggae vocalist Chronicle on "Big Bad Sound." The song hails up all the generals from his father to Haile Selassie who helped shape him musically and spiritually. It is a true example of the art form's continuation coming full circle.

Thoughtful lyricism aside, one of Chronology's greatest attributes is its layered production. The album's rich instrumentation allows the messages to digest into a soulful depth. Chronixx co-produced the entire album with a diverse all-star cast spanning the globe. Repping Jamaica, his touring band Zincfence Redemption along with the island's renowned musicians Llamar 'Riff Raff' Brown, Dean Fraser, Stephen McGregor (amongst many others) all contributed to the album. Across the map, British drum & bass band Rudimental, London-based Utters and NYC's Federation Sound round out this dynamic product. For tracks "Country Boy" and "Christina," Chronixx recruited iconic American blues guitarist Donald Kinsey, known for his recording and touring history with Bob Marley and Peter Tosh. Also a Chicago string orchestra arranged by Matt Jones adds dimension to songs like "Legend," "Tell Me More" and "Black Is Beautiful."

Chronology was recorded in studios in Brooklyn, Kingston, London and Chicago, mixed at Miami's Circle House Studios and at NYC's Manhattan Center.

In support of Chronology, he will continue to tour Europe, North America and Japan throughout the summer. He will also join Ms. Lauryn Hill and Nas on their Fall 2017 Powernomics tour. See full tour dates here www.chronixxmusic.com.


Chronology Track Listing:
1. Spanish Town Rocking
2. Big Bad Sound featuring Chronicle
3. Skankin Sweet
4. Ghetto Paradise
5. Country Boy
6. Smile Jamaica
7. I Can
8. Selassie Children
9. Black is Beautiful
10. Majesty
11. Loneliness
12. Likes
13. Tell Me Now
14. Legend
15. Christina
16. I Know Love [Bonus Track]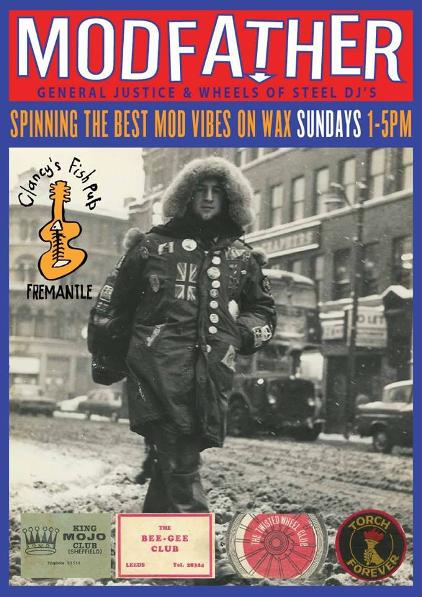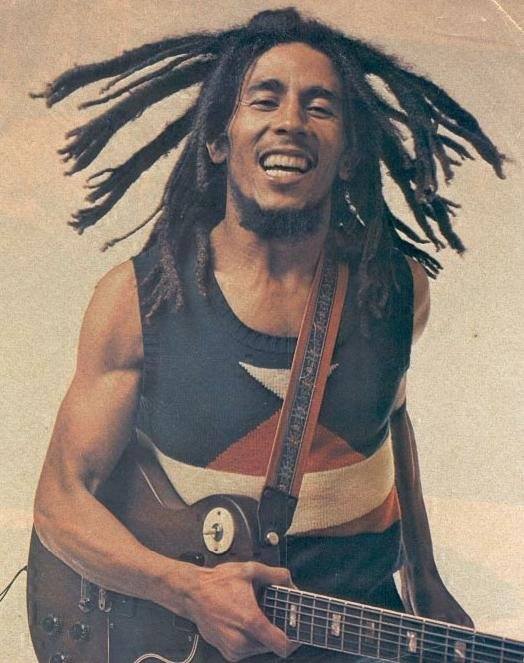 *** CALLING OUT TO MUSICIANS, BANDS & DJS ***
BOB MARLEY OUTERNATIONAL - our annual event celebrating the life and music of the KING of reggae, will be on again in Perth on Saturday 10th February 2018.
If you are a reggae band, musician, or DJ and would like to be involved, we are now taking applications - send an email to bmouternational@gmail.com
Please forward details of your unit, type of music, any videos or recordings etc.
Submissions close 31.10.17
Part of the proceeds raised from this event is donated to charity - oxfam or similar.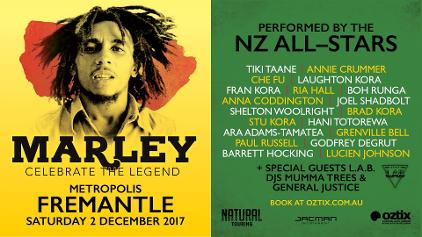 With the blessing of The Marley family comes The Marley NZ All-Stars. 19 of New Zealand's premiere musicians will play the hits of Bob Marley this December 2 at Metropolis in Fremantle. With a 2.5 hour set, spanning over 30 classic tracks including Get Up Stand Up, 3 Little Birds, Redemption Song, No Woman No Cry, One Love and many more, Marley is a night not to be missed for true Bob fans. Join us to Celebrate The Legend!

The Marley NZ All-Stars are -
Tiki Taane - Vocals
Annie Crummer - Vocals
Che-Fu - Vocals
Laughton Kora - Vocals (ex Kora)
Fran Kora - Vocals, Bass (Kora, Modern Maori Quartet)
Ria Hall - Vocals
Boh Runga - Vocals
Anna Coddington - Vocals
Joel Shadbolt - Vocals (L.A.B)
Grenville Bell - Guitar (ex Katchafire)
Stu Kora - Guitar & Keys (Kora, L.A.B)
Paul Russell - Drums & Percussion (Stomp, Supergroove)
Brad Kora - Drums & Percussion (L.A.B, Kora)
Barrett Hocking - Trumpet (The Black Seeds)
Lucien Johnson - Saxophone (The Black Seeds)
Shelton Woolright - Guest drums (I Am Giant, Blindspott)
Godfrey de Grut - Keys (Elemeno P, Che-Fu & The Krates)
Ara Adams-Tamatea - Bass (L.A.B, ex Katchafire)
Hani Totorewa - Keys (ex Katchafire)

Special guest support from NZ's own L.A.B
Local support from Perths Jamdown Vershun DJs Mumma Trees & General Justice

Online tickets $60 + booking fees from http://bit.ly/MarleyFremantle
Hard copies $60 (no booking fees). PM us or email info@naturaltouring.com.au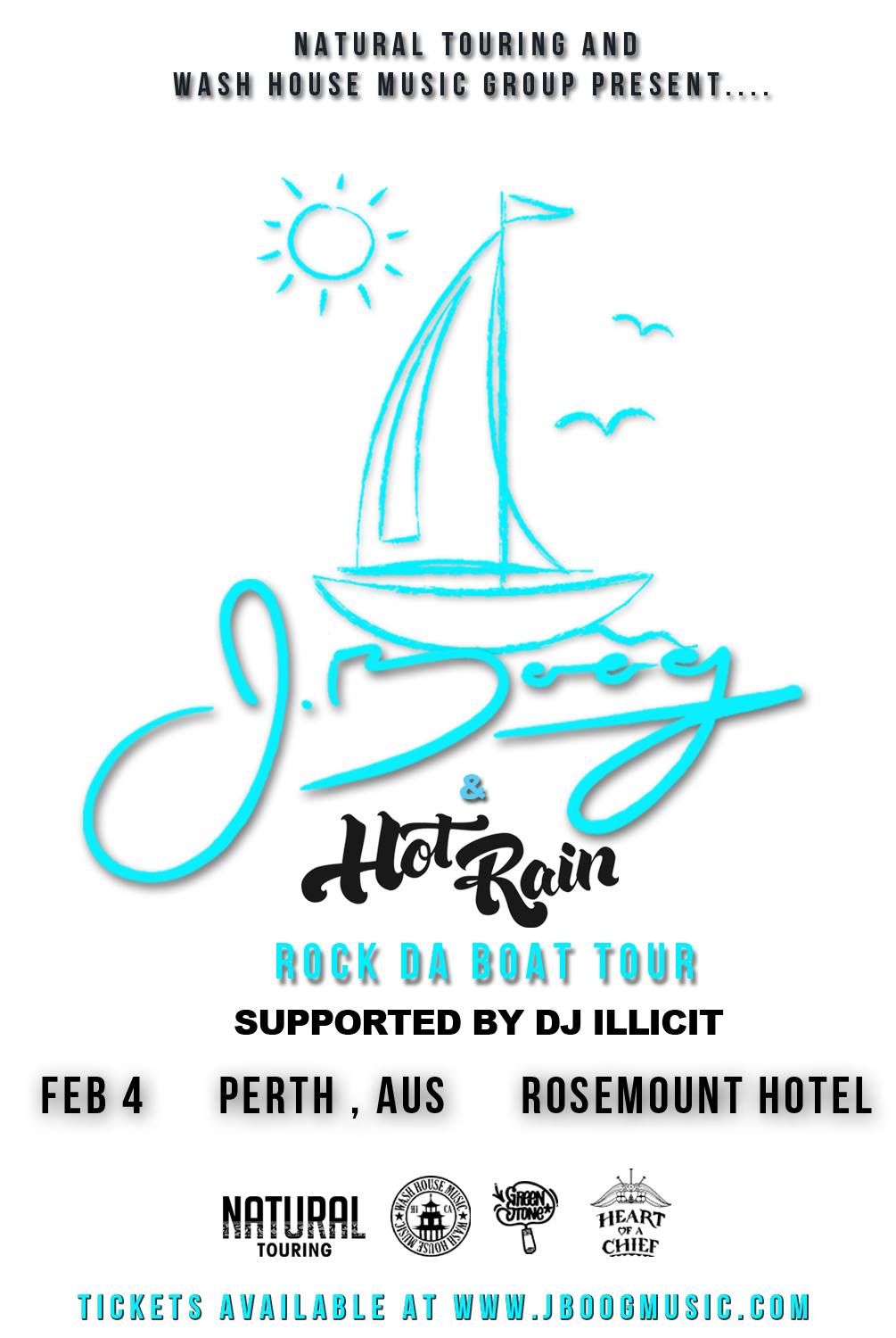 When: Feb 4 2018
Where: Rosemount Hotel Perth
Tikcets: $45 + bf

Following a memorable 2017 year, J Boog will be ringing in 2018 with the "Rock Da Boat" International Tour. He'll be performing in Rarotonga, New
Zealand, and throughout Australia. The tour kicks off on Jan 28th.

J Boog will be in good company taking stage in Tauranga, NZ at the 2018 One Love Festival. He'll be performing next to iconic Reggae superstars Shaggy, Aswad & Black Uhuru. Line up link @ onelovefestival.co.nz



Watch reggae legends, and an international reggae superstar as The Jamaican Music & Food Festival returns with a huge celebration of roots music, culture & real Jamaican food. Returning to Seaworks, Williamstown Melbourneon Sunday 12 November, it features sound systems fit for reggae Kings & Queenz, world-class DJs spinning reggae, dub, and dancehall classics for those who know their Buju from Bob, and over twenty food stalls serving up all kinds of Jamaican spice.

Join us for One day, as the Melbourne dockside comes to life with the colours and sounds of Jamaica. With four bars serving up Red Stripe & Rum, plus bass, bass and more bass. Tickets on sale soon, full line up and International headliners soon to be revealed.