Reggae and dancehall music in Western Australia!

Promoting reggae and dancehall music in Perth, Western Australia and to the world!
Promotion
Events
Publicity
Event Management
DJ and artist development and bookings
Phone: 0447 397 854
Email: reggaemumma@gmail.com

Looking for a band or dj for your next event? We can supply your entertainment needs in reggae, dancehall, soca, latin, soul, blues, 60's, ska and more. Weddings, Parties, corporate events. Call 0447397 854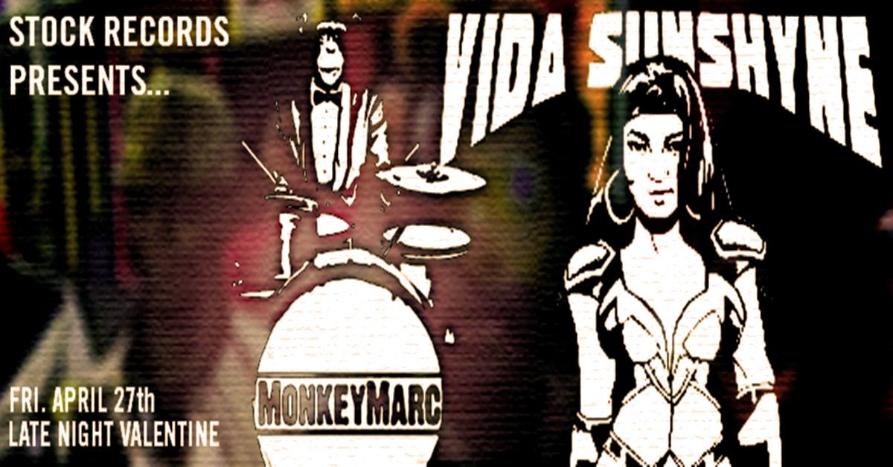 Stock Records and Reggae Dancehall WA presents... Monkey Marc and Vida Sunshyne w/ local support from legends Diger Rokwell and Jamilla + DJs Mumma Trees and General Justice at Late Night Valentine

Melbourne's legendary MONKEY MARC has been absolutely killing it with huge releases and incredible collaborations. Including the massive single No Surrender, feat. Sizzla, Capleton and Fantan Mojah, receiving massive praise from the worldwide reggae community. Monkey brings the dub, dancehall, hip hop and reggae rhythms to the d-floor, making it impossible for you not to move your body and soul.

VIDA SUNSHYNE is a phenomenal singer and songwriter hailing from Melbourne who exploded onto the scene with her debut release with Astronomy Class in 2009, earning her a nomination for an Aria. She has since released her own solo album and featured on the albums of such artists as Thundamentals, Astronomy Class, Chasm, Mista Savona, Bingethinkers, Killa Queens, Illzilla, Mind over Matter and Sizzla Kalonji. She is a powerful voice from the Australian/Ghanaian community.

Joining them on the night are legendary Perth producer DIGER ROKWELL and the absolutely amazing talent that is JAMILLA + DJs MUMMA TREES and GENERAL JUSTICE.

Entry only $10 ♥ ♥ ♥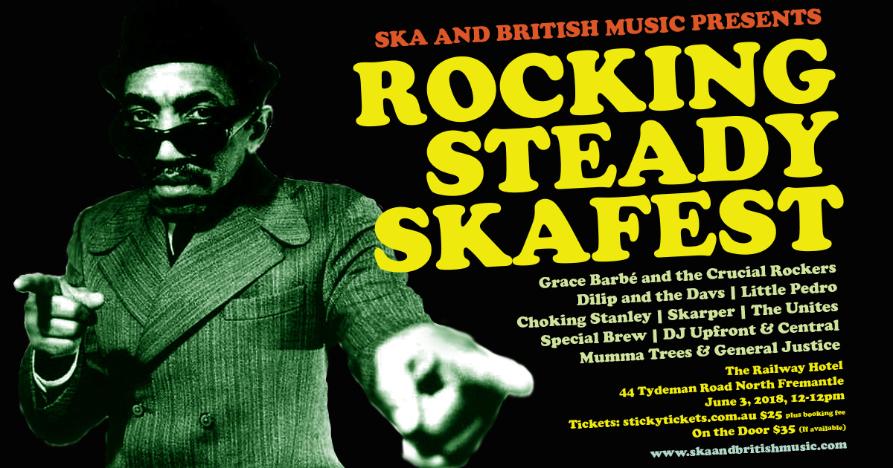 🇬🇧 Rocking Steady
🇯🇲

▪️
▫️
▪️
▫️ SKA FEST!!
▪️
▫️
▪️
▫️
The inaugural SKA FEST - 12 hours of original Jamaican Ska, UK Two Tone, Rocksteady and Trojan Reggae!
SUNDAY 3RD JUNE (Long Weekend)
THE RAILWAY HOTEL
44 TYDEMAN ROAD
12 midday -12 midnight
7 live bands
Grace Barbé & Crucial Rockers
Dilip & the Davs
Little Pedro
Choking Stanley
Special Brew
The U-Nites
Skarper
RTRFM Dj's
Upfront & Central
General Justice
Mumma Trees
Food and clothing stalls
tickets $25 from stickytickets.com.au
tickets are strictly limited, so get yours today!
https://www.stickytickets.com.au/…/rocking_steady_skafest.a…
420 Picnic Perth
•٠•●●•٠٠•٠•●●•٠٠•٠•●●•٠٠•٠•●●•٠٠•٠•●●•
HEMP AWARENESS DAY
FRI 20 APRIL 2018
An afternoon of live music, djs, speakers, hemp related stalls, information about hemp foods, knowledge about Cannabis for medical use, switching to a hemp crop, promotion of hemp housing materials, textiles, eco-friendly plastics, paper and clothing.
Hosted at Pioneer Park, Fremantle(corner of Pakenham and Phillimore Streets), this is a celebration of Cannabis.
______________________________________
REGULATE★EDUCATE★MEDICATE
Speakers to be announced.
Stalls to be announced.
___________________________________
LEGALISE★DESTIGMATISE
Live Music:
►►►🔥 ¡¡¡ GENERAL JUSTICE!!! 🔥
►►►🔥 DARREN GUTHRIE 🔥
►►► WEGGY
►►► IGNITE
Powered by FUNKTION ONE
______________________________________
★ Alcohol Free Event ★
We have a no alcohol policy
[FREE EVENT]
Ticket not required.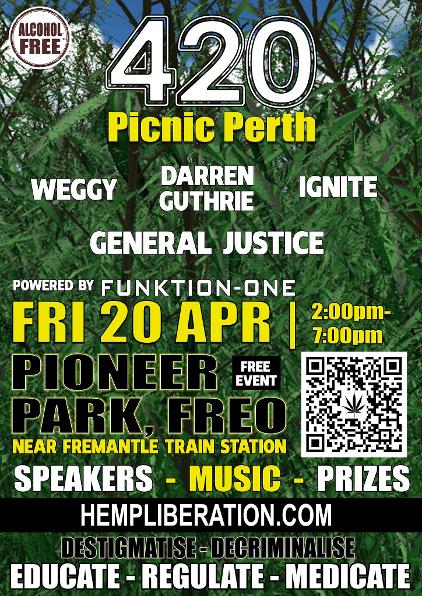 🔊 REVERB 2018 🔊
April 13-15 – G.O Edwards Park, Burswood WA

On the 3rd Day…. we proudly present 🎶 A Sublime Sunday Session 🎶

Starring:
Xavier Rudd - Official (90 Min Headline Set)
with
Sola Rosa (NZ)
The Beautiful Girls
Ainslie Wills
Little Quirks band
The Hunting Birds
& DJ GENERAL JUSTICE

BARS – FOOD FAIR – MERCHANDISE – VIP AREA & GOOD VIBES... ALL IN THE PICTURESQUE CITYSIDE PARKLAND OF BURSWOOD
▁▁▁▁▁▁▁▁▁▁▁▁▁▁▁▁▁▁▁

The team behind Creative Events Perth are excited to announce the debut of Perth's latest music and socially inspired event REVERB

Set to take place in the glorious Autumn month of April, REVERB celebrates WA's love of the great outdoors with three days of music, food fair, beverages, open skies and community vibes… all presented in the picturesque cityside parklands of G.O Edwards Park, Burswood WA

Kicking off the first of three event announcements over the coming weeks, REVERB is proud to announce a huge line-up of roots, reggae, folk and soul for SUNDAY 15 APRIL 2018